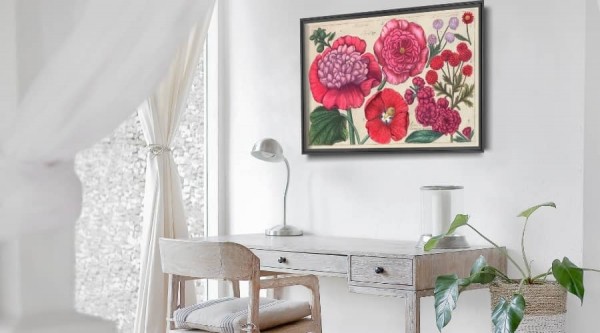 The origins of botanical illustrations
Plant biology is a branch of science covering the entirety of knowledge about plants. It consists of numerous sections covering specific topics, including: plant anatomy, genetics, systematics, palaeobotany and plant physiology.
As in the case of studies of other living organisms, such as animals, plants are studied at every level of their organization - from molecules, through tissues and entire organisms, to entire plant communities. The scope of botanical research is therefore extremely wide, and each of the separate departments often has its own methodology and research techniques.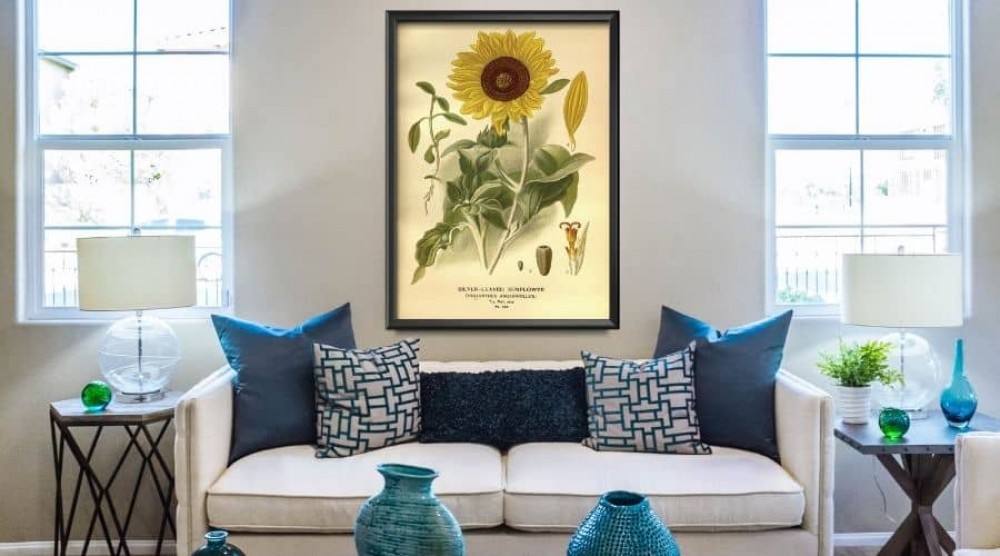 As you can easily guess, illustrations with botanical motifs appeared with the advent of art. The earliest images of plants are found on the walls of temples and tombs in Mesopotamia and Egypt, and date back to the 20th century B.C. On the other hand, the oldest preserved botanical illustrations can be found in the Codex Vindebonesis manuscript. This atlas was made in 512 CE. for the daughter of the Byzantine Emperor, Olibrius.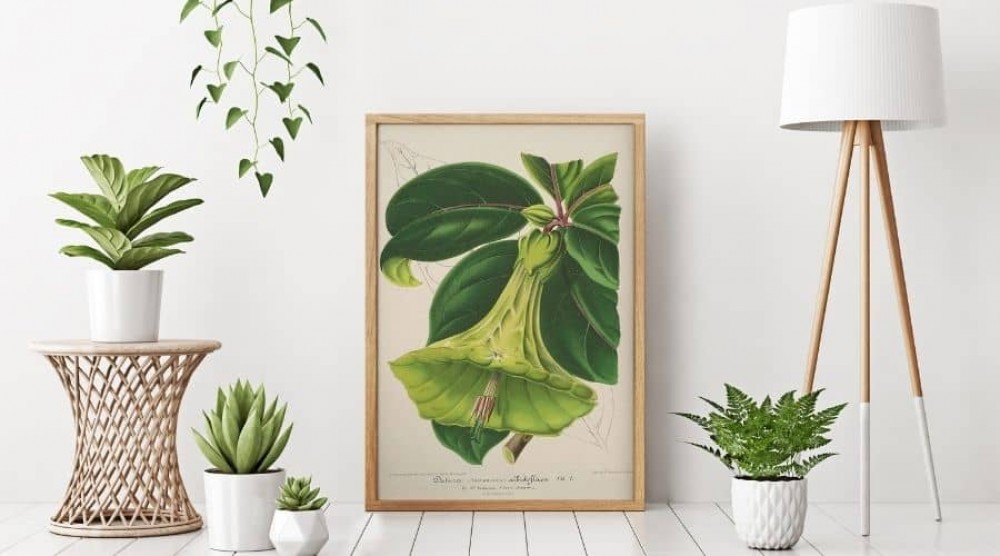 Before photography was invented, the creation of botanical illustrations was the only way to visually record plant species. The illustrators, thanks to their great artistic skill and attention to detail, shared the beauty with the world around them.
Today, scientific publications have large, clear photos that allow you to discover the world's flora, and thanks to modern printing technology, we can still admire botanical reproductions not only on the walls of museums, but also in our homes.
Adolphe Millot
Adolphe Millot, author of unique and enchanting botanical tablets, was a French painter, lithographer and entomologist who lived at the turn of the 19th and 20th centuries. He served as a senior illustrator at the National Museum of Natural History in Paris, and has authored many illustrations of the natural history section of the encyclopedic illustrated dictionary Le Petit Larousse.
Le Petit Larousse Illustré, known as Petit Larousse, is a French-language illustrated encyclopedic dictionary first published in 1905 in Paris. Petit Larousse has been published until now and enjoys great popularity, and the modern version contains as many as 150,000 definitions and 5,000 illustrations!
Adolphe Millot is the author of many beautiful botanical tables in our offer. Among them you will find illustrations of both flowers and fruits and vegetables that will be the perfect complement to your kitchen.
Ernst Haeckel
Ernst Haeckel was a German naturalist and Darwinist. He gained a reputation as a naturalist and biologist. His concepts contributed to the progress of evolutionary biology. He deserved science for the discovery and description of many previously unknown species of plants and animals - he carefully illustrated over 1000 specimens of flora from around the world.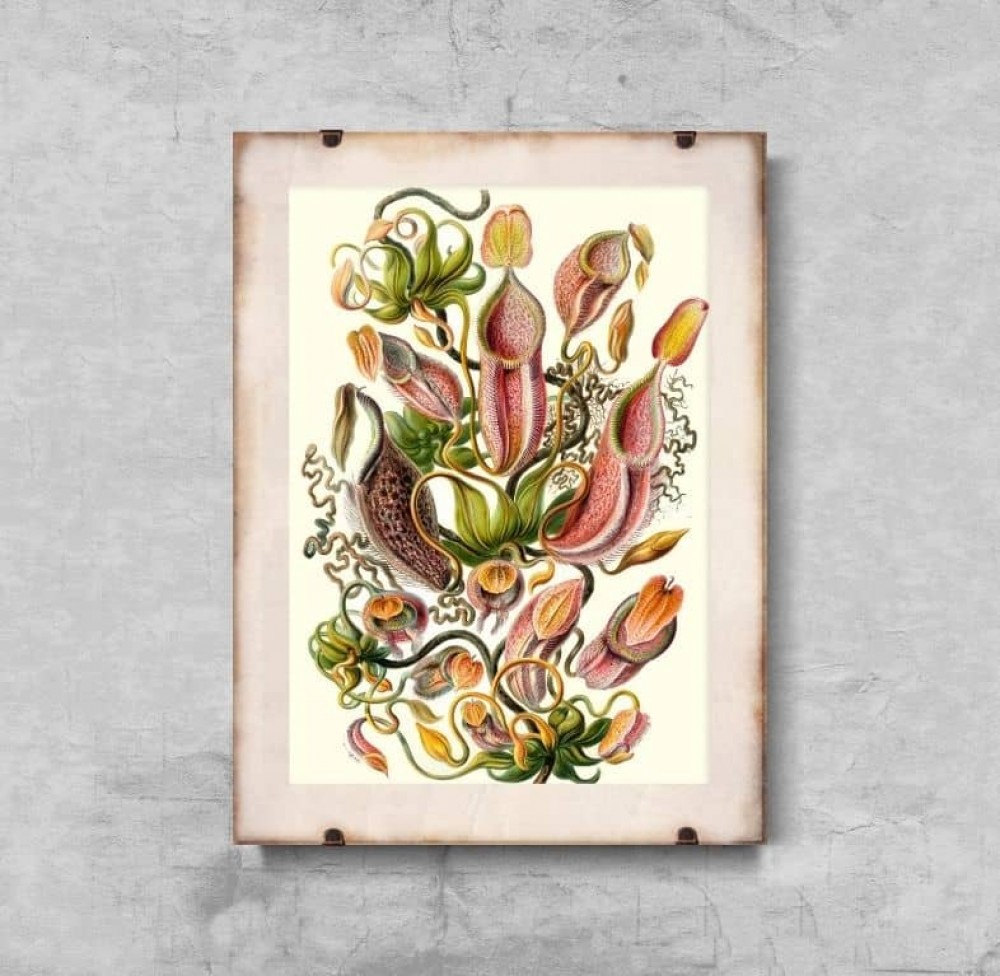 Our range of vintage posters includes effective reproductions of his botanical plaques, thanks to which you will wonderfully enliven the interior of your home.
How to use a botanical poster in the interior?
Botanical posters are quite universal wall decorations. They will work without any problems in the bedroom, kitchen, living room and any other space. A wide selection of posters in our store will allow you to choose graphics that perfectly match the colors and style of your interior.
They will work well in spaces filled with live plants, emphasizing the interests of the owner, and in rooms of people who do not necessarily have a hand for flowers. We guarantee that even serial killers of cacti will have no problems keeping the greenery on our posters alive.
Botanical posters are a great idea for decorating a children's room. Colorful vintage posters will not only decorate the wall, but also stimulate the child's imagination and will be a fantastic educational aid.
For more inspiration, visit our Instagram and Facebook, where you will find ideas on how to use botanical posters in your home or apartment.
---
Check out also:
Gallery wall guide - how to hang and arrange pictures