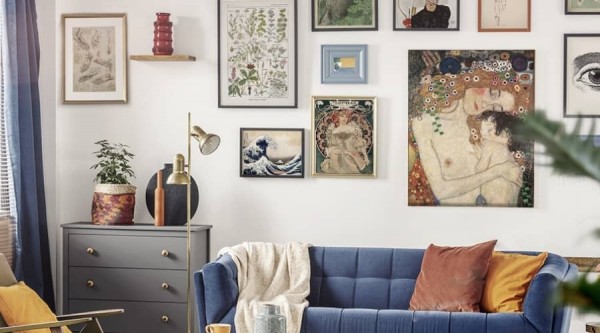 Gallery wall guide - how to hang and arrange pictures
Hanging pictures or posters in beautiful frames on the wall is always a great way to arrange an empty space. Do you dream of your own home gallery? We will suggest how you can make your dreams come true in a few simple steps!
The perfect place for your gallery
There is no room for the slightest mistake when creating your own gallery wall. It is worth considering where we want our gallery to be located. The choice of wall determines not only the size but also the shape of our composition.
A home wall gallery can be created not only on a large fragment of a straight wall. Such a gallery will work well as a decoration for a staircase, sloped walls or integrated into the space between shelves. A wall gallery will work both in the living room and in the child's room. A gallery of botanical and zoological posters is the perfect way to decorate walls in children's rooms - the little ones will be delighted to discover the diversity of fauna and flora!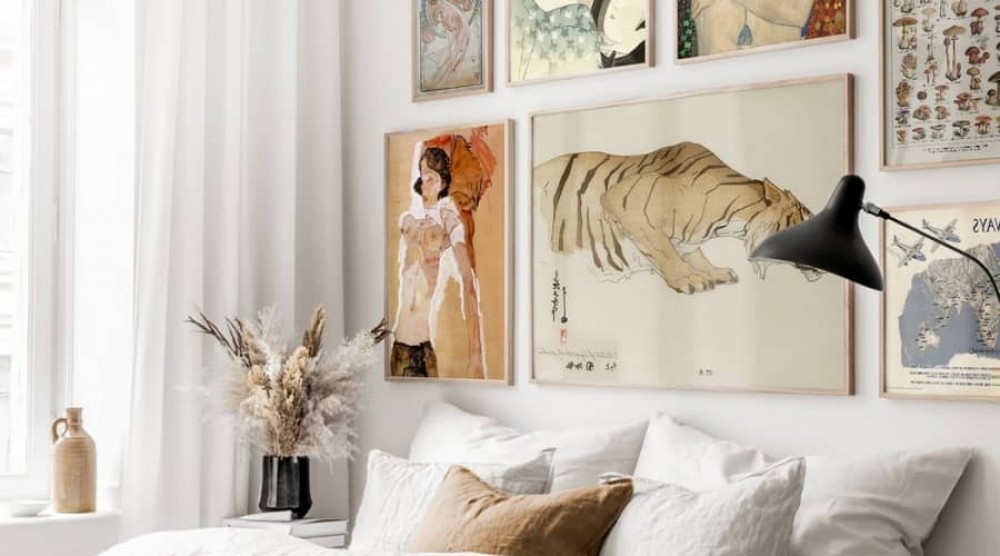 Matching Posters
Posters complement the interior design. Therefore, when planning a purchase, it is worth using a few tips on how to choose wall decorations for the interior.
Although we believe in the absence of any limitations, we realize that not everyone is a fan of artistic chaos. Posters can be selected with motifs. You can match thematically similar paintings, for example reproductions of Japanese woodcuts. It is important that they have a leitmotif that is intuitively visible, but not necessarily conspicuous.
Thematic selection can be treated in various ways: choose posters with a specific theme (e.g. with a woman or flower motif), but also by completing a gallery of reproductions as part of your favorite artistic trend. Such a gallery preserved in one style will bring harmony to the interior and certainly will not give the impression of randomness. For artistic fanatics, the choice may be even easier. A wide selection of posters in our offer will allow you to complete the collection of individual artists!
Or maybe the color?
You can also create a home gallery by selecting its elements according to a color key. And here you can go crazy. Maintaining the gallery in a specific color also gives the possibility of its further expansion.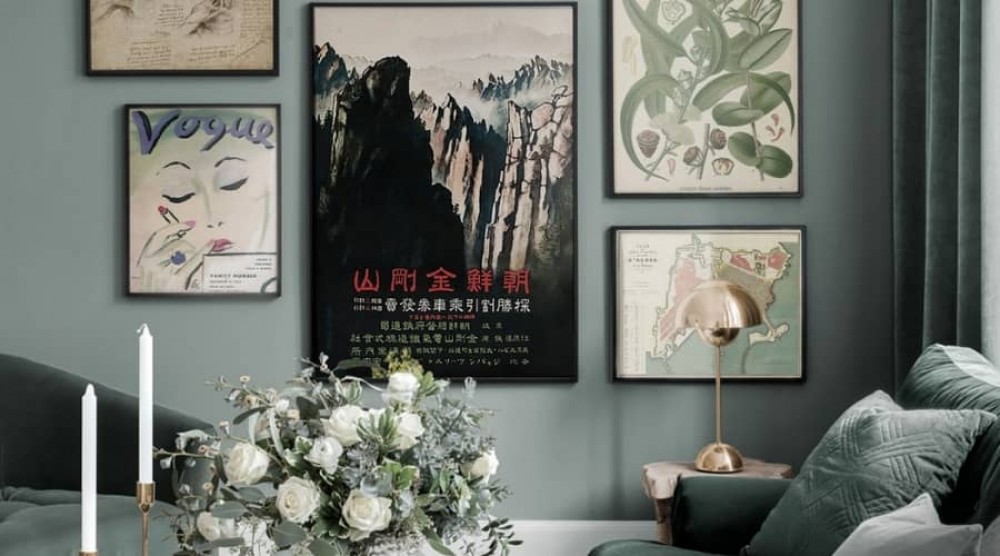 When selecting the elements that make up our gallery wall, it is worth considering what colors will match the rest of the arrangement. For example, black and white posters will work well in interiors decorated in an elegant, modern style, and those in shades of green will blend in with the fashionable urban jungle trend. If you want to contrast, check which colors are opposite to each other on the color wheel. Thanks to this solution, the colors will not "clash" with each other.
Choosing the right frame
After selecting the posters that interest you, consider purchasing matching frames. Of course, you can also start from the other side and choose posters for the frames you already have. There is full freedom in this matter.
The frames should be color-matched. We recommend moving between 3 to 4 colors in order not to create the impression of a visual clutter. It is good to choose the colors according to the color palette. However, if you are afraid to mix different colors with each other, you can safely choose frames in many shades of the same color.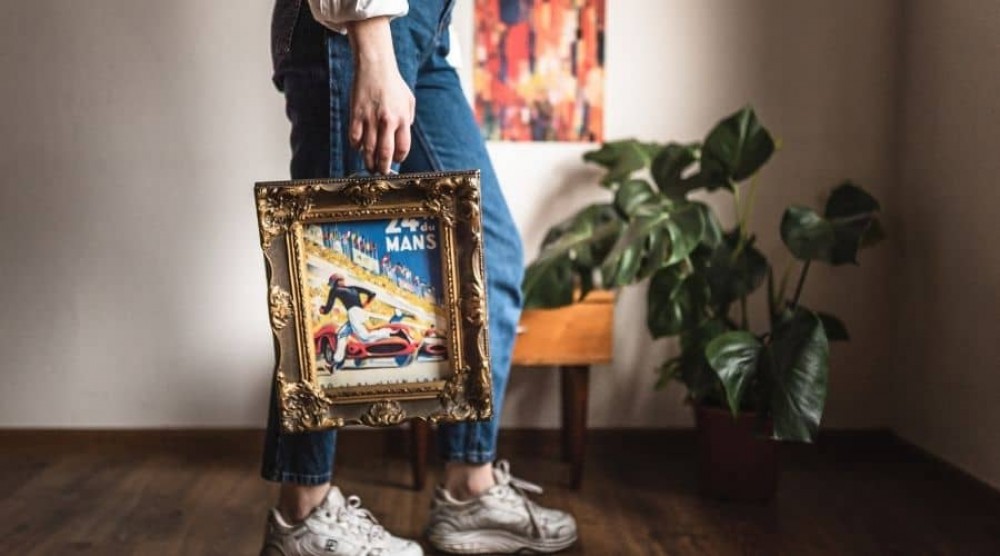 Choosing a frame style
Frames can also be selected based on the style that interests us, or focus on the selection in terms of the material from which they were made. Wooden frames will work well in Scandinavian interiors, but also rustic, japandi or other minimalist interiors. But here's our small point - if you decide to buy wood, it's worth not to overdo it with species and focus on two, maximum three different species. Also, do not mix richly grained exotic wood with native species with the same characteristics. For exotic wood, it is worth choosing wood with a calm pattern and a similar color shade. The same principle applies to the selection of metal frames. It's important not to overdo it! However, if you choose frames in different styles, make sure the frames fit together and form a coherent whole.
How to make a gallery wall
Do you prefer open or closed composition? An open arrangement will allow you to expand your gallery, a closed one will introduce an impression of order and harmony.
When planning the layout of the gallery, stick to very simple and practical rules: start with the largest frames, adding smaller ones one by one, try to keep equal distances between the frames and take care of the proportions. Sounds a bit complicated though? Nothing could be more wrong. You can try drawing your gallery on a piece of paper, although our favorite method is to use gray paper or cardboard and masking tape.
Cut out the shape of the frames in the paper and try to arrange the gallery in a demo version. This way, you can protect the wall from being punctured like Swiss cheese. Another solution may be to design a gallery in a graphics program, although it is already a version for people who are expert in using this type of programs.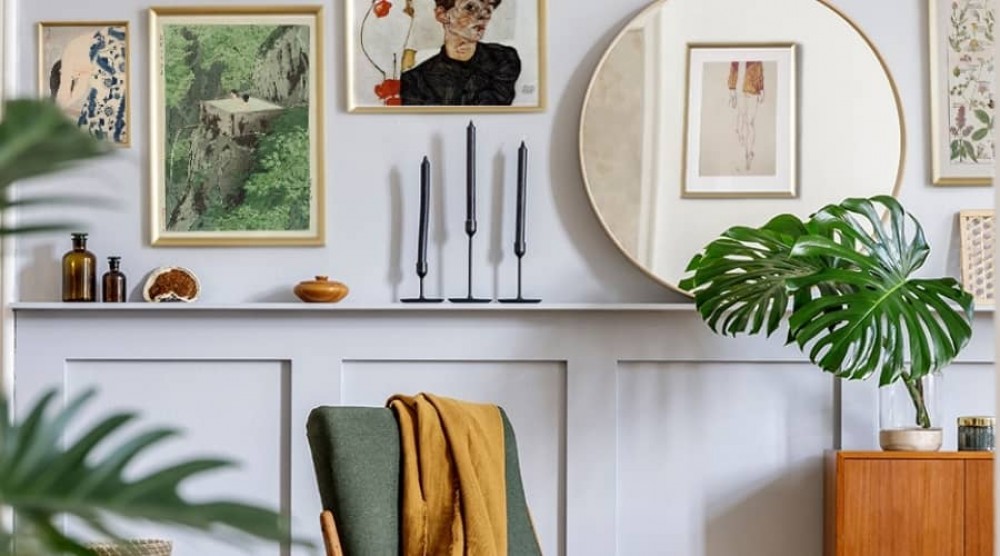 If you lack inspiration on how to compose posters, many suggestions can be found on Pinterest in the form of ready-made templates and plans.
The final result
After the planning phase, it is time for the final stage. When you are satisfied with the planned composition, it is time to implement the project. To hang posters, you can use both double-sided tape, special self-adhesive fasteners or traditional homemade nails. Although the safest and easiest part of the assembly are the hammerless solutions, pay attention to the weight of the hanging frames. Unfortunately, some frames are too heavy to hold on to the tape, which can end up in a mess and broken glass. Also remember to stay safe. For the gallery, choose a wall with no electrical installation.
Plan your dream gallery now and enjoy the amazing end result!
---
Check out also!:
How to frame a poster and graphic - proven and effective methods
Features of expressionism and impressionism in painting - artists, posters, art