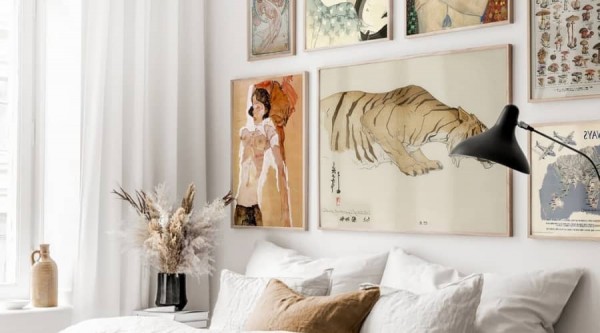 Bedroom wall decor ideas - 5 inspirations for an interesting wall finish
Finishing your bedroom wall is an important part of creating a comfortable and inviting living space. It can help create a unique atmosphere that reflects your personal style and preferences. Bedroom wall decor ideas can range from simple artwork to creative wallpapers.
Wooden wall in the bedroom
Wooden walls can add warmth, texture and character to a space. Whether you opt for a rustic wood look or a sleek, modern finish, a wood accent wall can transform an ordinary bedroom into a cozy retreat.
There are different types of wooden decorative walls, from wall paneling to do-it-yourself wooden planks, that can be installed to give your bedroom a statement. A wooden accent wall can also complement other design elements in the room, such as bedding, furniture, and lighting.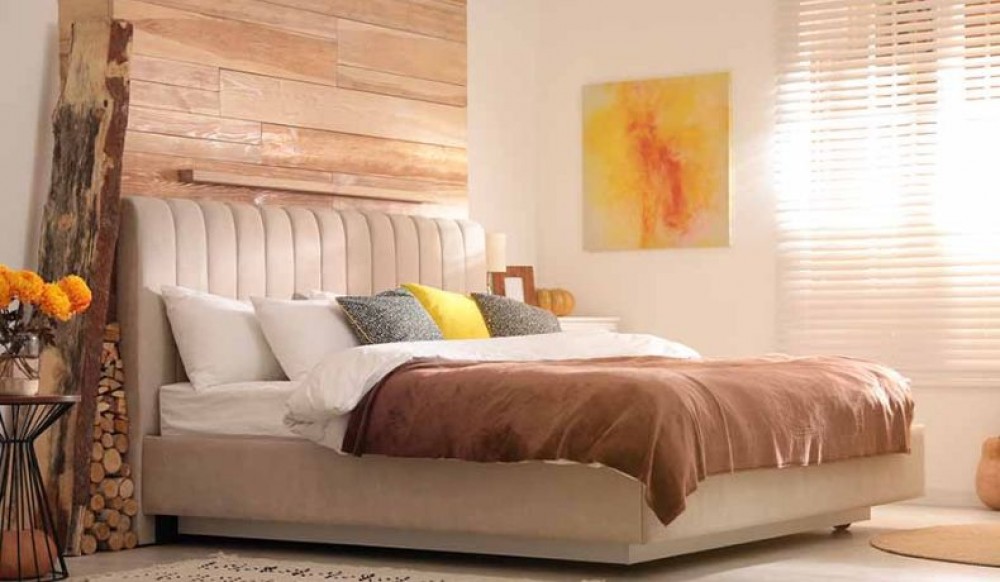 When choosing a color for a wooden wall, consider other colors in the room to ensure a consistent look. Soft colors like pale blue, pink or light gray can create a serene setting, while darker colors like navy blue, plum or sage can add depth and richness to a space.
To start arranging a bedroom wooden wall, it is a good idea to plan the project and consider what style of wood will suit your taste and the overall atmosphere of the room. One thing is certain - once installed, a wooden wall will give your bedroom a feeling of comfort, warmth and relaxation, making it the perfect place to unwind after a long day.
Space behind the bed - finishing the wall with wallpaper
Wallpaper is a versatile tool that can transform a bedroom in an instant. It can be bold and eye-catching or subtle and understated, adding texture and dimension to any space.
When choosing wallpaper for a bedroom, consider the overall design aesthetic of the room - furniture, bedding, decor - to ensure that the colors and wallpaper patterns complement the overall arrangement. Here are some tips on how to choose wallpaper for different bedroom styles:
For a modern or minimalist bedroom, stick to solid colors or subtle patterns in neutral shades like white, gray or beige. This will create a clean, streamlined look that won't overwhelm the space. You can also opt for geometric patterns or textured wallpaper in a single color to add interest and depth to the room.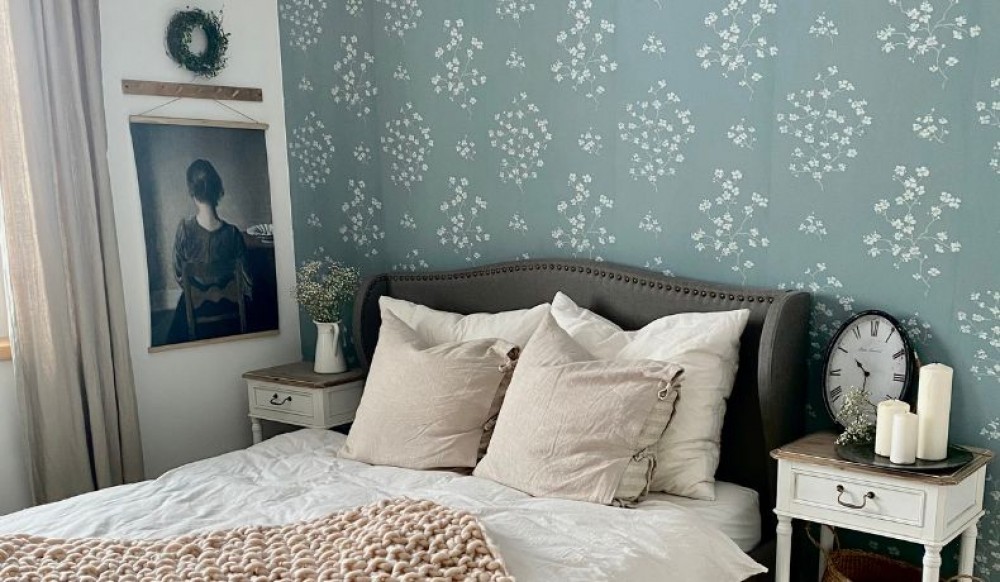 If you have a more traditional bedroom, consider wallpaper with a classic pattern like stripes, flowers or damask. You can choose wallpaper in a soft color palette such as pastels, creams or light blues.
For a bohemian-inspired bedroom, consider using wallpaper with a bold, colorful pattern like paisley, ikat or Moroccan tiles.
For a luxurious bedroom, wallpapers with a metallic finish or a bold, graphic pattern in rich colors such as black, navy or deep purple are perfect.
A picture, poster or photo gallery - a unique accent in your bedroom
Decorating your bedroom wall with paintings, posters and photos can give a room a unique and personalized feel. We suggest how you can use these decorations to accentuate the wall behind the bed.
Gallery Wall - Mixing and matching artwork and photos in different frames will create a creative focal point above your bed or sofa.
Experimenting with different placements of paintings, posters and photos is the key to finding the perfect arrangement. Trying both symmetrical and asymmetrical placements can create a unique look.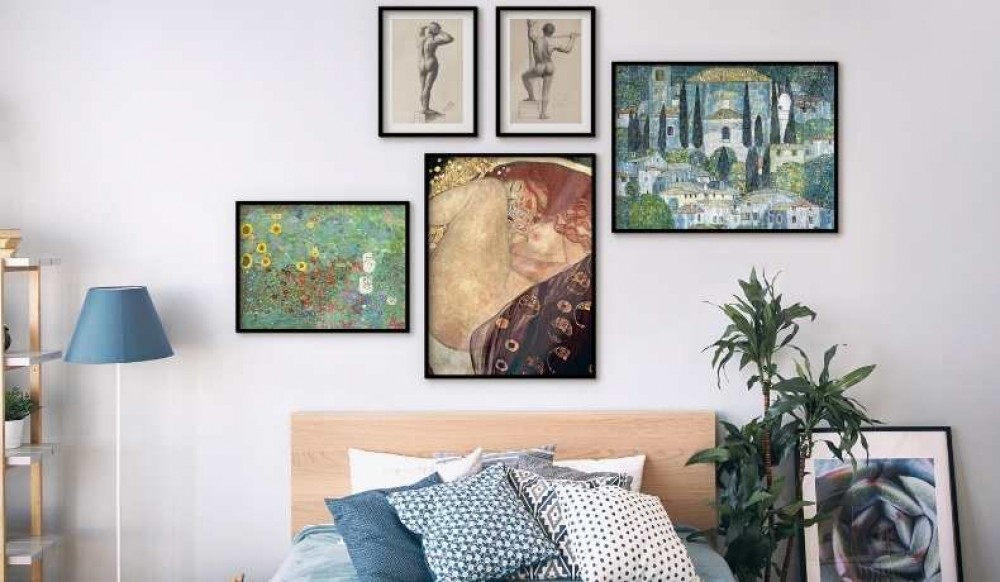 Grouping different posters together can create a sense of continuity and flow. This can be achieved by installing, for example, a shelf along the wall and using it to display posters along with various art objects and statuettes. Choose the motifs that best reflect your personality, e.g. botanical posters, art reproductions or glamour prints.
Mood art - if you want to introduce elements into the space that create a calming and relaxing atmosphere, think about choosing paintings or posters for the bedroom that correlate with the mood. There is a lot of talk about the influence of colors on our well-being, so it is worth using those that will work best in the bedroom.
Wall moldings in bedroom
Wall moldings can be a great way to add elegance to a bedroom. They are most often used in interiors arranged in a glamour and classic style. On the wall in the bedroom, picture frame moldings usually appear, which are mounted just above the headboard of the bed. Crown moldings, which expand at the junction of walls and ceiling, are also very popular.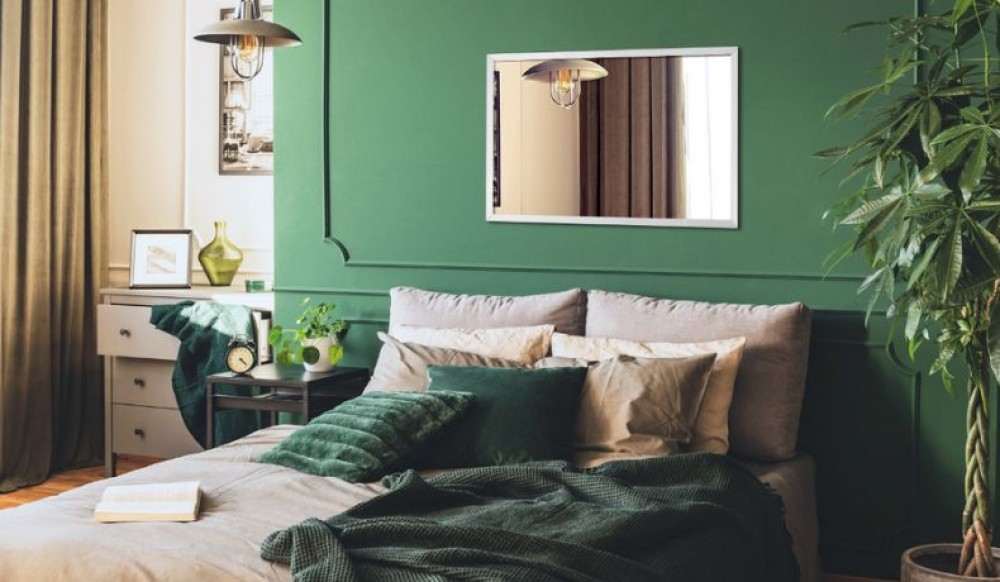 Upholstered wall panels in the bedroom
Upholstered panels are a great way to add texture and color to your bedroom. They can be used in many ways, such as laying them all over the wall for a dramatic effect (upholstered wall), or creating a custom headboard. In addition, decorative panels can be used in combination with other materials, such as wood or glass, creating a visually attractive and unique bedroom design.
Overall, all wall decorating ideas can be a versatile and creative way to add interest and personality to your walls and entire interiors. Whether we choose controversial wallpaper, vintage posters or moldings, there are many options available to suit different styles and preferences.